Now here's an axe that really sticks out from the others. The SOG Base Camp Axe of the BadAxe Series is raw forged from 1055 carbon steel with a thermal molded rubber handle and a hardness rating of RC 50 – 55.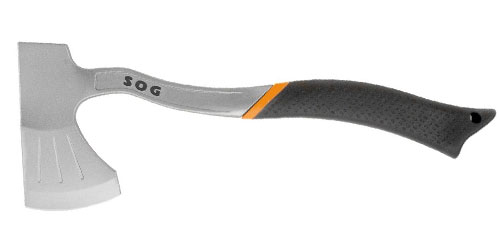 This straight blade axe is sharp, sturdy, and easy to handle so it's perfect for outdoor activities like camping or as a secondary tool when hunting or fishing, and it's also on our list of the best survival axes.
The steel itself has shock resistant capabilities and coupled with the rubber handle surely makes this axe a well-built tool. SOG includes its limited lifetime warranty with the purchase of this product, as well as a molded nylon sheath with a belt loop for carry.
Key Specifications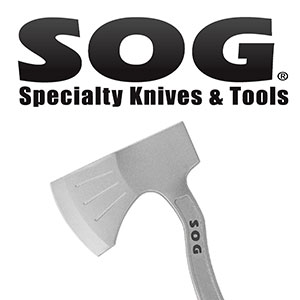 Brand: SOG Specialty Knives & Tools
Model: BadAxe Base Camp Axe
Model Number: F16N-CP
Overall Length: 16"
Blade Length: 3.4"
Steel Material: 1055C, HRC 50 – 55
Handle Material: Thermal Molded Rubber
Overall Weight: 33

oz.

Sheath: Molded Nylon with Snap Closure
Features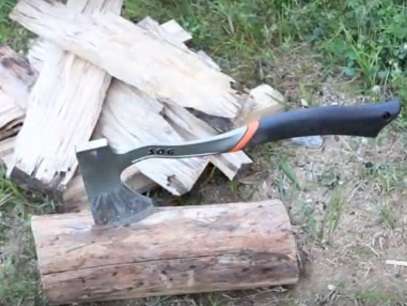 I have to say, I'm oddly attracted to this axe. It boasts an ergonomic handle, a blunt end for hammering, and a flexible yet sharp edge while maintaining a reasonable size and weight for a carry-on axe. Not to mention the full-tang steel and the comfortable ribbed rubber handle, which gives you powerful strength and durability.
This axe is ideal for chopping smaller sized pieces of wood and hammering nails or tent poles, as well as other outdoor tasks or activities. I wouldn't recommend it for splitting big logs or chopping large, thick pieces of wood as the head thins out and doesn't give you the driving force you need to successfully split wood. It's a great piece for short camping trips or as a secondary weapon to keep on your waist; my only complaint is the way the blade thins.
Aesthetically, it is an incredibly attractive piece; forged from one solid piece of 1055 HRC 50 – 55 carbon steel affixed with the SOG logo on both the steel and printed all over the rubber grip handle and accented with an orange trim. The nylon sheath that it comes with is very well made, and gives you a sleek and safe way to attach the axe to your belt and it offers a back latch for easy removal. In general, it is a hefty, effective axe and as long as you don't put it through overly extensive tasks, it will not disappoint.

Wrap Up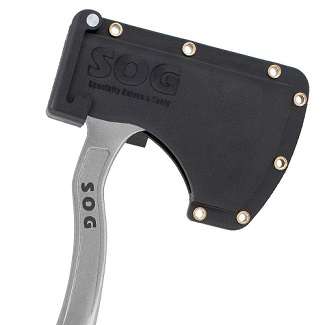 If you are a camping enthusiast or just an overall outdoorsmen type, I would certainly recommend this axe. It is perfect to take on short excursions and will effectively chop down branches and foliage, hammer in nails, break down a glass or similar material, and protect you in an emergency. It's not too heavy and has a flexible, full-tang head meant to absorb shock.
The curved shape and rubber tread on the handle gives you and smooth, sturdy grip that won't slip in any weather condition. The nylon sheath included by SOG offers a belt loop for easy carry and is snug and secure so you can feel confident when traveling or storing the axe. It's a nice looking piece of steel, forged from 1055C HRC 50 – 55 and molded to the SOG-imprinted thermal rubber handle.
The head is a little weaker than you would expect, given its full-tang design, but the pommel side makes up for that with its dulled, durable end. As a carry-on axe, it will surely find a place in your toolset as a camping tool. The SOG BadAxe F16N-CP Base Camp Axe definitely lives up to its title of "Bad Axe". Plus, with its lifetime warranty, you can feel secure that in the unlikely event something occurs, you can contact SOG for a possible exchange or repair.

Cons
Not very sharp out of the box