Today I am going to review another SOG product, the F01TN-CP Tactical Tomahawk. Now, similar to many other SOG products, the first thing you notice is the sleekness of this "tacti-cool" weapon.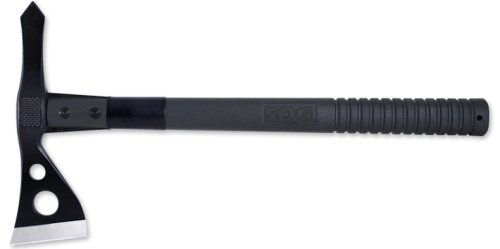 This tomahawk is wickedly powerful while still managing to maintain a light, easy to handle form. It is forged from military grade 420 stainless steel with a hardness RC of 51 – 54 and coated with a black oxide coating to reduce reflectivity and provide protect against scratches. The ballistic polymer handle is attached with a steel ferrule and double bolts, giving you added security and comfortable handling.
This unique upgrade of the traditional Vietnam war-era tool is attractive and effective, and will be sure to destroy any obstacles in its way. A highly versatile tool, this tomahawk can be used for breaching operations, excavation and extraction techniques, obstacle removal, outdoor use, construction, and more! This is a great all-around tool that surely has a place in any tactical toolkit.
Key Specifications
Brand: SOG Knives & Tools

Model: Tactical Tomahawk in Black

Model Number: F01TN-CP

Overall Length: 15.75"

Blade Length: 2.75"

Steel Material: 420 Stainless Steel, HRC 51 – 54

Handle Material: Ballistic Polymer

Overall Weight: 24 oz.

Sheath: Nylon with snap closure
Features
Created by the well-known and well-respected SOG, this model of tactical tomahawk offer a razor sharp high-quality blade with steel spike affixed to a durable ergonomic ballistic polymer handle secured with a steel ferrule for added bulk. This tool is ideal for outdoor activities, tearing down debris or foliage, breaching doors or walls, excavation or extraction, emergency maneuvers, camping, and more!
Backed by a limited lifetime warranty from SOG, this brilliant take on the traditional Vietnam tomahawk is not only powerful but also handsome. The black oxide finish on the blade matches the black handle and provides you with a weapon and tool that is as lustrous as it is ferocious. A nylon sheath is included when you purchase the tool, and it appears a satisfactory protection and storage option.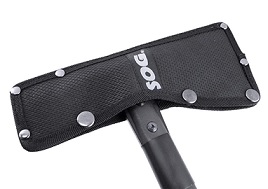 The sheath has a belt loop built in and fastens with snaps, which offers you a quick release option when fixed to your waist. The SOG F01TN tactical tomahawk is just light enough to be handled comfortably but heavy enough to the damage you want it to. And with a finely honed 420 stainless steel edge possessing an HRC of 51 – 54, you can be sure it will cause some destruction.
The head also features a sharp spike end and a checkered hammering area for maximum versatility and abilities. The checkered hammering tool gives you intense smashing power with minimal damage to the blade, and the chiseled end gives you the ability to dig, pick, smash, and more!
Wrap Up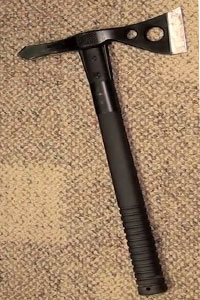 The SOG Specialty Knives & Tools F01TN-CP Tactical Tomahawk is an excellent tool that is multi-functional and strong enough to tackle just about anything. Sporting a 2.75-inch axe edge blade with a 51 – 54 HRC level and scratch-resistant coating, this blade was designed to withstand damage, corrosion, and impact.
Engineered with SOG's belief of merging the finest, most resourceful tools into one powerful multi-tool, this tomahawk allows you to flip the cutting edge over and use the blunt chiseled edge for breaching or removal while the checkering on the side offers precision hammering and placement.
The head of the axe is mounted to the polymer handle and secured with heavy-duty bolts and a steel ferrule. The handle also features an ergonomic shape and no-slip grip so you can have a secure and comfortable hold. The nylon sheath with snap closure and belt loop attachment is included to offer you both safety and portability.
Backed with a limited lifetime warranty that protects against defects in manufacturing and materials, SOG products are known for producing tough, powerful tools that can perform immaculately in even the most adverse setting. This is a tomahawk that will get you through any tactical problem you can encounter. I definitely recommend this tool.

Cons
Axe can drop out of the sheath