The Schrade SCAXE5 full tang tactical hatchet, a small but mighty tool produced by the highly revered Taylor Brands, LLC. For an affordable price, you can get a tactical hatchet that is lightweight but really packs a punch.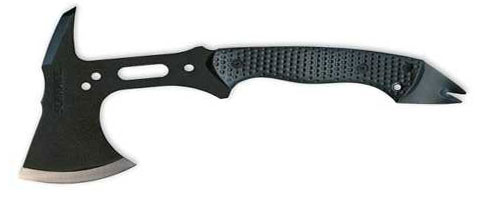 Designed to be small enough for comfortable carry and ideal for emergency situations where a larger axe is unavailable or inconvenient, this incredible weapon will definitely find a place in your toolbox. A unique thing about this particular hatchet is the pry bar fixture on the end of the full tang steel.
Along with that, this tool boasts SK5 powder coated high carbon steel and glass filled nylon handle slaps complete with grooves and contours to make the handle ergonomic and slip-resistant. A polyester sheath with belt snaps and two adjustable belt loop attachments accompanies the SCAXE5.
Key Specifications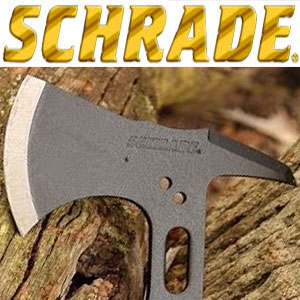 Brand: Schrade

Model: Full-Tang Tactical Hatchet

Overall Length: 12.8"

Blade Length: 3.1"

Steel Material: Powder Coated SK5 High Carbon Stainless

Handle Length: 6.4"

Handle Material: Glass Filled Nylon Fiber

Overall Weight: 1 lb 9 oz.

Sheath: Polyester
Features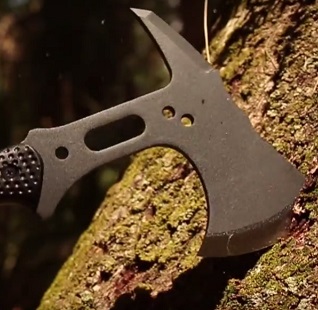 As you probably know, Taylor Brands are one of the highest-rated manufacturers of elite, innovative weaponry and tactical tools. Founded by Stewart Taylor in 1975, Taylor Brands has been designing, creating and producing high-quality hatchets, knives, and accessories since their commencement.
Like I noted above, this hatchet is a full-tang forged out of one solid piece of SK5 high carbon steel, coated with a black finish to reduce reflectivity and help prevent scratches. Just before the thick and fully operational pry bar, the nylon handle grips are attached with bolts.
The razor sharp blade with a deep saber grind on the cutting surface will chop through wood and even sheet metal cleanly, but given its short stature it is not very effective on tough materials that are best performed at farther range. The back spike of the reverse of the head is as strong as it is menacing, and it will cleanly smash through cinderblock and bury itself deeply into wood or walls. Weighing out to just less than 2 pounds, the SCAXE5 is a lightweight tactical tool that is comfortable to use as well as carry.
It is both a perfect emergency hatchet as well as a handy tool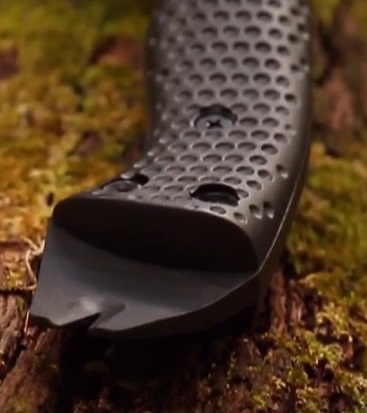 that can be used for chopping, digging, hammering, smashing, and is powerful enough to be used in excavation and breaching techniques. Its only real downfall is its size, but that can also contribute to its strength, so this tool turns out to be a win regardless.
I wouldn't recommend it if you are looking to, say, break down a sturdy wall or door, but it would be perfect to take camping or on an outdoor trip. It is a formidable opponent against object or person alike, and should be handled as such – don't let its small size fool you! This is a powerful tool in a little package.
Wrap Up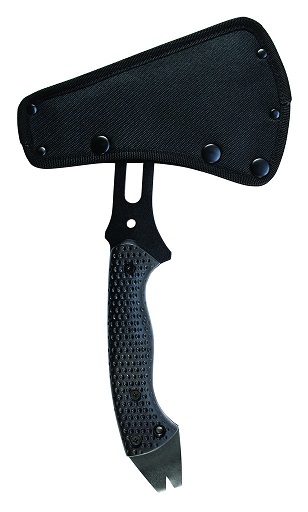 I definitely recommend this hatchet! It's affordable, it's versatile, it's powerful, and it's lightweight. There is no real con to this axe unless you are specifically looking for something to tackle a particularly large job. Otherwise, this hatchet can take care of just about anything.
Along with its corrosion-resistant SK5 high carbon steel full-tang body, it has a sturdy pry bar at the end of the handle, durable glass-reinforced nylon handle scales, and a lustrous and sleek black oxide finish that is not only aesthetically alluring but also reduces reflectivity.
This is a survival hatchet that can effortlessly pry nails out of walls and with one smooth hit the spike end can embed itself deeply into wood or a similar medium. It's steel is considered of a higher caliber than most, and given that it is produced by the well-respected, premium weapons manufacturers Taylor Brands, that is to be expected. You really get what you paid for and then some with this inexpensive yet incredible tool!

Pros
Sharp out of the box