Here's a camping axe that is both stylish and functional: the Mora Outdoor Axe. This sturdy camping axe is made by MoraKniv of Sweden and is created from Boron steel coated in an attractive black epoxy finish and affixed to a reinforced polymer handle. It is available in both military green and florescent orange and ranges from the $40 – $60 range, making it both stylish and affordable.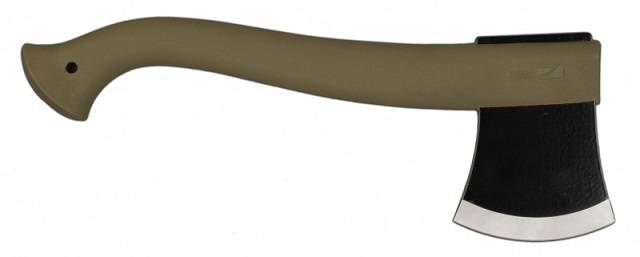 Additionally, it is practical and its lightweight design makes it ideal for carrying in a pack when on camping trips. This is the perfect tool for the avid outdoorsman. The simplistic design offers reliable functionality in modern, sleek design. Plus, a gorgeous leather sheath is included for protection. Morakniv includes a one-year warranty with this axe, so you can have some buyer security when making your purchase.
Key Specifications
Brand: MoraKniv
Model: Boron Steel Camping Axe
Overall Length: 12.6"
Blade Length: 4.5"
Black Thickness: 0.24"
Steel Material: Boron
Handle Material: Reinforced plastic
Overall Weight: 17.6 oz.
Sheath: Genuine Leather Slipcover

Features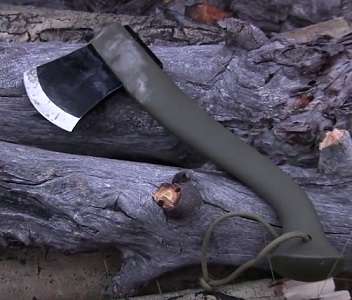 The Mora Camp Axe is the perfect tool to handle kindling and simple brushwork when out in the woods. It is a relatively small axe, making it easy to carry and use. The ergonomic handle is slightly textured and fits comfortably in your hand. The strategically shaped wide bottom prevents it from flying out of your hand during use.
In addition, the hole near the bottom of the handle lets you secure a lanyard to the end, which can be used to attach to your belt or pack, or fix around your wrist for added security. A great feature on this axe is the axe head. For starters, the steel is made from Boron, a specialized steel used mostly in cars because of its durability. Additionally, the axe head extends about two inches into the handle itself to further reinforce its sturdiness. The thickness of the blade is admittedly somewhat thin, but for minor brushwork and firewood, it will do the job.
Again, this is a small tool. It is not intended for hardcore, heavy-duty tactical jobs. However, it is simple, light, and is ideal for those monthly camping trips. The black epoxy finish gives it a sleek, lustrous finish. This axe is not for those looking for a multi-purpose tool or a tactical weapon. It is a straightforward design, with no bells or whistles.
The flat end of the axe head can be used to hammer in stakes or nails, which can aid in building tents and shelters. This can be the perfect axe if you are looking for a tool to include on your camping excursions that can help to generate firewood, chop down branches, and hammer in stakes.
Wrap Up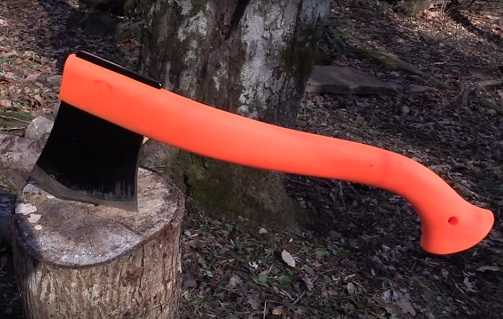 I recommend the Mora of Sweden Boron steel axe to moderate camping enthusiasts who don't have the use for an overly complicated tool. This is a small axe with a functional, sturdy design, but don't let its size fool you! The blade makes clean, direct cuts and its comfortable, reinforced handle will absorb most of the shock. Gloves should always be worn, as they can prevent any injury from occurring and give you added grip when handling your tools.
As I mentioned above, it is available in both bright orange and a hunter green, which are two great colors that serve more than just aesthetic purposes. The genuine leather sheath gives you a beautiful cover that protects both you and the blade. All in all, this is a great axe to bring on any camping trip. While it doesn't offer any belt-carrying options, you can always fasten it to your pants using a lanyard, or just toss it into your pack.
Either way, it is lightweight enough that it won't be a bother. I don't recommend you try to tackle huge logs or trees with this tool, but it is perfect for branches and small to medium sized logs.