The Gransfors Bruks Outdoor Axe is a extremly well built survival axe. Designed with the help of Lars Fält, well-known survival and outdoor expert, this axe is hefty, sturdy, and can bring down a tree with the right amount of force. Unique and handmade with pride and expertise, this stunning axe is carefully forged by an experienced smith and then stamped with their initials on the head.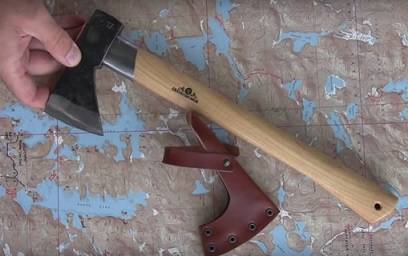 It is a compact, light tool but don't let its size fool you! With the Outdoor Axe's long handle and heavy head, it is powerful enough to fell a tree. The versatile tool can be used in a variety of ways, such as for chopping branches, chopping and splitting firewood, or even as a large knife for slicing game or food.

Key Specifications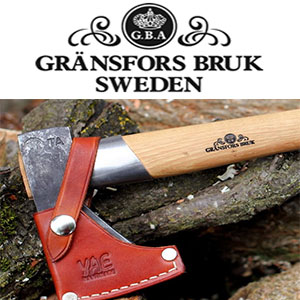 Brand: Gransfors Bruks
Model: Outdoor Axe
Overall Length: 14.5"
Steel Material: Unknown
Handle Material: Hickory
Overall Weight: 1.2 lbs
Sheath: Leather
Features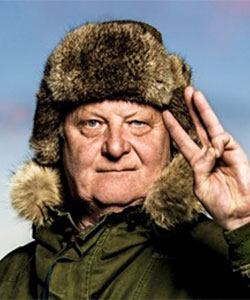 Lars Fält, the Swede who helped develop the Gransfors Bruks Outdoor Axe, has written 10 books on survival and outdoor pursuits, as well as having trained the Swedish Army Ranger Battalion for 35 years. You can instantly tell the level of quality that goes into making these axes. They are not only beautiful but also surprisingly powerful for such a light tool.
The handsome Hickory handle is secured to the steel head with a steel collar, specifically designed to weather any impact. It's impeccable steel is stamped with the forger's initials alongside the brand's logo on the head. The single strap and snap leather sheath that is included with the axe is attractive and also does a fair job securing to the axe.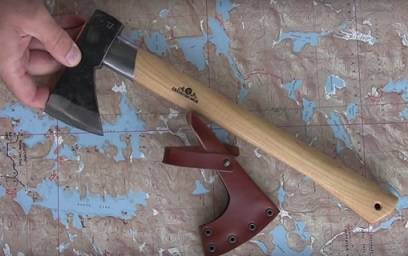 It also doubles as a belt strap so that you can carry it hands-free on your belt. Now, as far as the axe's capabilities, when I say it can fell a tree, I am not exaggerating, though it should be a relatively small tree. As expected, this small tool can only tackle mild to moderately sized projects, but because of its extended handle and lightweight size, it can be swung quickly and forcefully enough to chop and split wood as necessary.
It can be used for less traditional jobs too, such as gutting hunting game or fish, chopping fruits or vegetables, or for any task you would use a large knife for. The head comes razor sharp, as each blade is honed to a fine 25° bevel after forging, so be careful when handling.
Wrap Up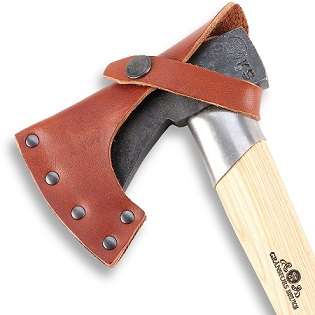 The light, versatile design on this axe really makes it a great addition to any workman's tool or shed. It won't replace any larger, hefty tree-splitting axes you may already own, but it is perfect as a compact, carry-on axe for small projects. It is ideal, for example, as an axe you could carry on your belt while you travel through the woods or forest.
The head is not the best you could find for splitting though it could get the job done with enough determination. This tool is best suited to bush crafters and hikers who don't want to overburden their kit but still want a reliable tool, as this flexible and versatile axe can tackle almost any job you have for it. It's a truly handsome piece, with fine craftsmanship and a comfortable feel. A hole can be located at the end of the grip so you can attach a lanyard for added security when handling.
It is worth mentioning that this axe is slightly costly for the size and caliber, however, keep in mind you are paying for the craftsmanship as well. The steel ferrule underneath the head keeps the handle from suffering any damage during striking, and the head itself is finely honed. Definitely a tool worth purchasing if you have the funds, as it will be a beneficial addition to your toolkit without overweighing it.