This is a review of the Estwing EBTA Black Eagle 27 oz. Tomahawk. Let me begin by stating that Estwing products are known to be heavy-duty, and this tactical tomahawk is just that, plus it includes the shock resistant grip welded to the handle.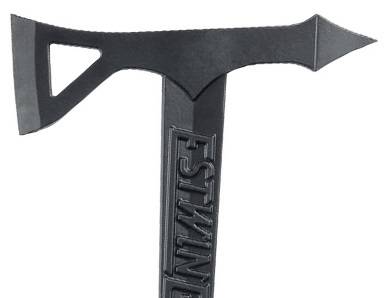 Proudly made in the USA and drop forged out of one solid piece of steel, the Black Eagle is perfect for outdoorsmen, professionals, and military teams alike. Its lightweight design makes it easy to carry, and it is perfectly balanced for precision control. Don't let it's size fool you, however, this Tomahawk style axe is not only physically powerful but also versatile; it can be used for breaching, cutting, digging, excavation, extraction operations, and more.
It includes a nylon sheath, which, while not being very practical because it does not offer an attachment for your belt, does offer satisfactory protection for the blade during storage and carry. I've outlined important stats and information below.
Key Specifications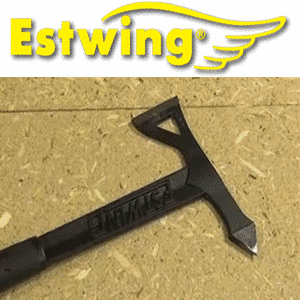 Brand: Estwing

Model: EBTA Black Eagle Tomahawk

Overall Length: 16.25"

Handle Length: 8"

Cutting Edge: 5.5"

Steel Material: 1055 Carbon Steel

Handle Material: Nylon Vinyl

Overall Weight: 27 oz.

Sheath: Nylon
Features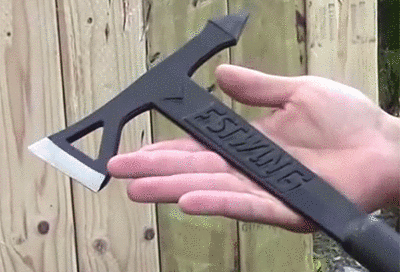 American-made Black Eagle tomahawk axes by Estwing are impeccably precise and made to last. Now, the sheath is not great for attaching to a belt and it doesn't offer the ability to quickly remove the tool, which does diminish its practicality, but that's just the sheath. I'd recommend finding or making one that has a snugger fit and easy release option, plus a belt or vest attachment.
The tool itself, however, is formidable. I'd like to point out the unique hole-in-the-head design that it sports, which offers users a lighter head and quicker strokes. As I mentioned above, the axe is forged out of one piece of 1055 carbon steel and has Estwing's famous patented shock resistant handle grip permanently fixed to the end.
It is brilliantly embossed with the Estwing logo on the handle that, combined with the lustrous black finish, gives this tool an attractive and appealing look. The tomahawk has a traditional spade head with spike end, but what is so notable about this end is its strength. It has phenomenal penetration abilities, but its most remarkable quality is its capacity to smash even the toughest materials. It will go cleanly through cinder blocks, metal, plywood, and more!
While not so efficient in traditional lumber chopping or splitting wood cleanly, this axe is great for breaching and breaking down materials, as well as for throwing, hacking, digging, hammering and more. The head of the axe offers a hooked area between the head and handle, which gives you grappling and hooking abilities.
Wrap Up
For such an inexpensive product, you really get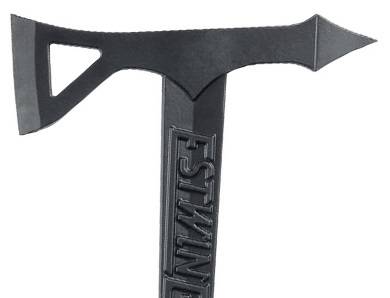 your money's worth with this tactical axe! It is a useful addition to your tool bag or kit and can definitely take on whatever you put in its way. I've seen some complaints that the blade isn't as sharp as desired when first purchased, so keep an eye out for that; it might need some sharpening to get it to your liking.
Overall, I would say this is an exceptional tool. It is powerful beyond belief, strong, and ultra light. This axe weighs out to just under two pounds but rest assured it is robust enough to smash through harsh materials. If you are more interested in throwing, you may find this axe to be noticeably more challenging than most but for tactical purposes, it will exceed your expectations.
The full tang 1055 drop forged carbon American steel plus the shock absorbent grip that reduces vibration up to 70% makes this product extraordinary and easy to handle. Estwing really did a superb job with the EBTA Black Eagle Tomahawk.