We tend to look at a whole bunch of factors when deciding to write a review here at axeing.org and the Estwing Sportsman's Hatchet, model number E24A is deffinetly worth taking a closer look at.
This is really a beautiful tool. This American made full-tang steel hatchet is finished with a stacked leather handle and a thick lacquer polish, giving you an attractive, useful, and comfortable tool. A perfect camping hatchet, this lightweight piece is well balanced and will effortlessly split small logs for firewood or chop through bushes or branches.
These Estwing hatchets are a true classic, having been in circulation since the 1920's with only minor adjustments and can surely last you many years with proper care. While Estwing no longer offers the hatchet with its original engraved leather sheath, you can still find it if purchased via outside alternatives.
If you are looking for an instrument that can stand up to all your backpacking, hiking, camping, or bushcraft needs, I'd say look no further! The Estwing Sportsman's Hatchet is effective, affordable, and durable.

Key Specifications
Brand: Estwing
Model: Sportsman's Hatchet with Metal Handle
Model Number: E24A
Overall Length: 14"
Cutting Edge: 3.25"
Steel Material: Forged Tool Steel
Grip Material: Genuine Stacked Leather
Overall Weight: 24 oz.
Sheath: Original: Leather with Snap Closure / Replacement: Black Nylon
Features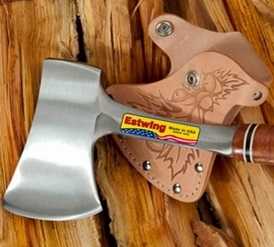 The E24A Sportsman's Hatchet by Estwing boasts great features, including it's full tang steel and attractive leather grip. The type of steel is not disclosed, but Estwing describes it as "tool steel". It is made in the USA and the grip is comprised of stacked genuine leather ringlets, which are sanded and then finished with a lustrous polish for maximum comfortability.
The ergonomic handle is specially designed with a wider end at the bottom of the handle to prevent slippage when using. Because this is a full-tang piece of metal, it can offer a slightly thinner cutting edge that widens out to a blunt end, making it ideal for splitting. The edge itself comes fairly sharp from the factory, but depending on your particular needs, it could use a sharpening.
A leather crafted sheath featuring an engraved image of oak leaves and acorns is was included with the original purchases and can still be found via Amazon and similar marketplaces, however, it seems it is no longer offered directly through Estwing. Instead, they offer a snug black nylon sheath that is not nearly as attractive, but may prove more effective for carry and durability.
The original sheath slid over the handle and then snapped around the blade, which is useful for hammering without removing the sheath, but incredibly annoying if you favor easy release and carry options. In regards to performance, this hatchet is excellent for basic camping, home improvement projects, bush work, and similar outdoor work. Because of its affordable price, this is perfect for someone on a budget, or as an entry-level hatchet for the aspiring outdoorsman.
Keep in mind, there are a few cons to this hatchet like it's limited shock absorbency, which can prove to be damaging if used frequently, and its original sheath. If you only plan to use this hatchet for the occasional camping trip, repair project, or seasonal wood splitting, I highly recommend it.
Wrap Up

Overall, this tool is great. It's well balanced, it's handsome, it's durable, it's effective, and it's lightweight and easy to handle. Woodcrafters and those who wish to do detailed woodwork should avoid this one, but if you are looking for an axe to include in your survival pack, this is it. It will split and chop small chunks of wood effortlessly, perfect for firewood.
The blunt, hammerhead end will help drive stakes or wood spikes into the ground with ease. Estwing has been making this hatchet almost since their inception with very little changes to it over time, which certainly attests to its dependability and resilience. The Estwing Sportsman's Hatchet is 14 inches of full-tang steel wrapped with a comfortable, stacked leather grip and it's available at popular retailers for an affordable price.
Also remember that, it is not a wooden handle and thus does not have the same shock absorbency as a wooden handle would, but again if you use this sparingly, you will not experience any lasting damage. Definitely a must-have for the avid camper and outdoorsman!