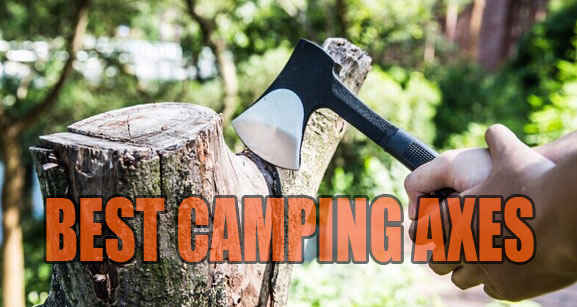 CHOOSE THE BEST CAMPING AXE 2016 FOR YOUR NEXT OUTDOOR ADVENTURE
A camping, hunting or canoeing experience is only as good as the axe that you use. The right choice of axe defines every outdoor experience, from a friendly family fire camp to survival in the wicked wild woods. There are many factors that define a good camping axe. It needs to be durable enough to survive prolonged hours of use in all sorts of climatic conditions.
At the same time, you need to be able to wield it comfortably, swing it without too much strain and carry it with you on long treks or camps. The best camping axe is ideally a multipurpose tool that can reliably perform a huge variety of functions. From shaving logs and felling trees to hammering stakes for a tent, your axe will be your steady companion in everything you do.

WHAT SHOULD YOU THINK ABOUT BEFORE BUYING A CAMPING AXE?
There are several things that you need to consider before investing in an axe. Weight and length are the basic parameters that vary from one tool to another, so you'll probably narrow your list down to a handful of tools based on these two factors. But the most important aspects you need to look for are quality and utility.
While inspecting the quality of a camping axe, you will need to look at the materials used in the head and the handle. You will also need to inspect the alignment, shape, texture and finish of the axe. The utility of the axe depends on what functions you plan to perform with it. It also banks on the sort of weather conditions under which you expect to operate. This combination of quality and utility should give you a good idea of the sort of axe you need to buy.
Keeping all this in mind, there is no doubt that the right blend of material, comfort and utility is often hard to find. But fear not, there's a good range of options out there. Here's a handy guide to the best camping axes 2016 that you can find in the market today.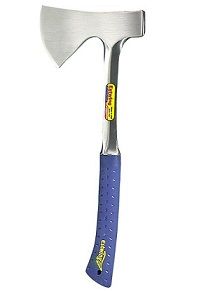 This classic camper's axe by Estwing has an established reputation and is a safe bet for fulfilling most of your camping needs. Its sturdy all-steel blade and hammer is a solid single piece construct with a great finish that is convenient to sharpen and performs well in everything it does. It comes with a shock absorbing rubber grip and a sheath to protect the generous four inch cutting blade.
The Estwing E44A is rather heavy at 3lb, but that makes it an excellent option for trail maintenance. Despite its dimensions, it is still one of the smallest axes you can get without having to go into the hatchet category. This makes it a pretty good balance. One of the drawbacks is that its sheer heft makes it a bit too bulky for extended backpacking trips.
But it is still convenient to carry around thanks to the belt slits that the manufacturers thoughtfully cut into the sheath. Overall, the Estwing E44A is an old American favorite. It is one of the bestsellers in its category with a proven track record in felling trees, splitting wood and notching timbers. You can't go wrong if you decide to make this axe your camping buddy.
Cons
Not very sharp out of the box

Coming from one of the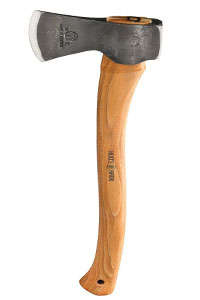 oldest axe manufacturers in the world, the Hults Bruk Aneby hunting axe does everything that you would expect a great axe to do. This brand takes pride in producing more than three centuries worth of expert hand crafted survival tools, and is priced higher than competing brands.
The Hults Bruk Aneby is quite compact at 22.5 inches. It has a steel head that provides good leverage for light forest work like animal hunting, skinning and basic wood cutting activities. The wedge has a classic design that is ideal for splitting wood. This is because the generous length of handle helps bring more enough momentum to the swing.
Its hand forged Swedish high quality steel balances well with the sleek hardwood American hickory handle, making it a good companion for backpacking.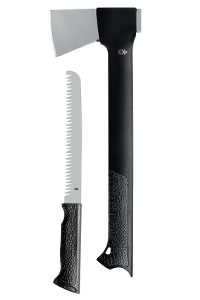 For all the anxious souls who have been fretting over the weights of the axes that we've seen so far, here's one that'll put you at ease. Boasting a reasonable price, rugged design and reliable performance, the Gerber Gator Axe and Saw combo is an excellent deal suitable for any camper who doesn't want to lug extra pounds in his backpack.
The forged steel head of the axe sits sturdily atop a glass-filled nylon handle, making for a lightweight champion in the axe arena. The total length of the axe is almost 16 inches and it gives you enough striking force even in watery or muddy conditions. The 10 inch saw that accompanies the axe is stored inside the handle with a magnetized lock and a securing strap. If you're worried about the endurance of the saw, you'll be pleased to know that Gerber provides replacement blades too. This axe does have some cons though.
Some users have reported breaks in the handle after heavy use, so it might be advisable to stick to basic cutting and chopping jobs. With good care, regular maintenance and proper use, this axe should give you many years of loyal service. All things considered, it's very practical and handy for most situations that don't demand a heavy duty axe, so you might want to just keep it handy in your car during your next camping trip.
Cold Steel combines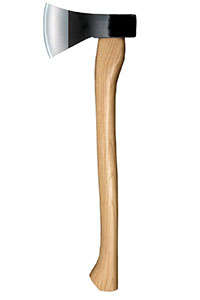 affordability and quality to create this truly versatile axe that's relatively light and compact in view of being a good 26 inches long. The head is high carbon steel while the handle is made of impressive shock-absorbent straight-grained Hickory that comes with a sleek varnish. Both components are made in China, though the design itself adheres to American quality standards.
Its 2.2 lb weight makes it great for carrying over prolonged periods or distances, but still ranks it above most tomahawks and hatchets in terms of durability and performance. Many users suggest that it needed sharpening out of the box while others complain about the absence of a good sheath. But for the design and quality it provides, it's a decent axe nonetheless.

The Fiskars X15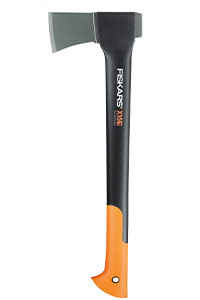 chopping axe is a successor to the X7 model in the popular Fiskars X-Series. This multipurpose 26 inch axe weighs around 3.5 lb, featuring a drop-forged medium carbon head and a synthetic FiberComp break resistant handle. It's even more attractive when you consider the fact that it generally comes with a lifetime warranty.
This axe is a well-researched tool which works exceptionally well on thick wood. Most experienced campers would advise you to pair it with a splitting axe, as the X15 doesn't do such a great job outside of chopping, felling or limbing. This axe arrives out of the box in razor sharp condition and the edge has the perfect amount of thinness for deep penetration.
It's pretty easy to maintain if you invest in a dedicated Fiskars sharpener. If you're looking for a good swing with power, speed and efficiency, this axe is a good choice with great value for the price.

An ultra light axe that is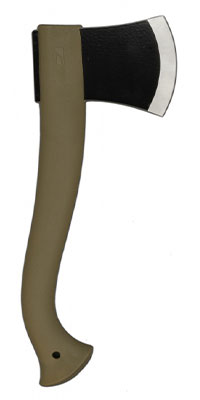 really more of a hatchet, the Morakniv Boron steel camping axe is a favorite with light hikers and campers who prefer small tools. Made in Sweden, the axe lives up to the Mora reputation for the sheer versatility and strength it packs into its small frame. Barely 13 inches long, with a blade that's 4.5 inches long, this axe weighs an unbelievable 1.1 lb.
While the seemingly unimpressive product specs usually induce snorts of skepticism, this is actually an incredibly useful camp axe. Its head is composed of boron steel that has a black epoxy anti-rust coating. The handle is made of comfortable reinforced plastic and the axe includes an attractive leather sheath to boot.
It is one of the most practical axes in its generation. Its edge is stronger than those on a Fiskars or Gerber axe due to a modified secondary edge that has a better grind. While not ideal for hard core outdoor survival involving heavy woodwork, it's a must have for light backpackers and trekkers.

Husqvarna has always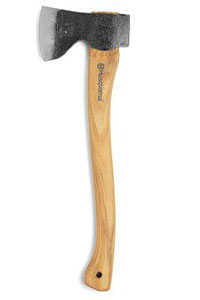 implied good quality to most axe lovers, and the Carpenters Axe lives up to that reputation. This is yet another axe that doubles up to perform most of the functions of an axe as well as a hatchet, making it an adaptable tool for various camping functions. It falls on the lighter side of the axe weight spectrum, weighing 2.2 lb, with a comfortable length of 19 inches.
The axe is hand forged in Sweden, and a large part of its appeal lies in its resemblance to a Hudson Bay axe. The handle has an optimal design that allows you to hold it at the end to use as an axe. But what sets it apart is that you can also hold it close to the head to give you a great grip while whittling, scraping, crafting or shaving wood.
This axe is best used as a tool for light woodwork, rather than the heavy duty stuff you can do with an Estwing or a Hults Bruk.
Cons
A bit heavy for its size
Wetterlings is famed for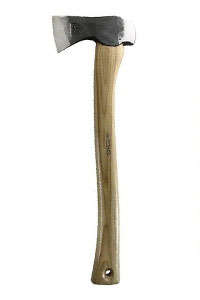 handcrafted quality, and this axe is one of its masterpieces. Ergonomically designed with a decent weight and length, it has a shock absorbent American Hickory handle that is nothing short of beautiful. The head is made of Swedish forged steel and is well tempered. It comes with a leather sheath that neatly ties up the package to create a fantastic axe.
It is suitable for lighter woodwork, and is a great tool for building shelters, trimming or other light tasks. The biggest con of this axe is its price. It is much too expensive for many eager campers. It is much easier to substitute this axe with a cheaper one from a competing brand, but if you can afford it, its money well spent.

Gransfors Bruks is one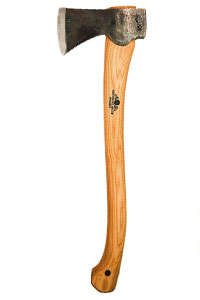 of those niche names in the axe production market that has always set itself apart for its hand crafted quality tools. The small forest axe is one of the specialized pieces, hand forged in Sweden with the purpose of fulfilling all the functions that you'd expect a larger axe to serve. It weighs only 1.5 lbs but has a slim 19 inch long Hickory handle that gives a great grip.
It is easy to carry as it can be conveniently attached to your belt or stored in your backpack. From chopping trees to hacking undergrowth, the Gransfors Bruks Small Forest axe does it all. You'll need to put in more effort for the heavier chopping though. The most distinguishing feature of the axe is that each piece bears the stamp of the initials of the axe smith who forged it.

This axe looks more like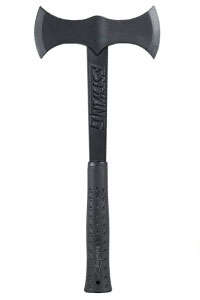 a weapon straight out of a Viking movie, and its functions wouldn't disappoint you if you mistook it for one. It claims to have been designed for a target audience of sportsmen and military professionals, but works perfectly well for campers too.
It is 17 inches long and weighs only 2 lb. Despite the delightful compactness and lightweight design, the axe is durable and has won the hearts of many an avid camper. With the head and handle forged in one piece, the craftsmanship of the axe speaks for itself.
The handle boasts of a patented nylon shock reduction grip that balances out the body of the axe for a great wood splitting experience. The axe comes with a sheath and a belt loop, making for a great user experience.
Cons
More dangerous then regular axe

When everything Is said and done, there are plenty of axes to choose from, with a wide range of price tags and functionalities. But the golden rule is to choose according to your needs and camping experience rather than to go with an established market favorite. You'll know when you get there, because with an axe like that, you'll enjoy the perfect outdoor experience.