This is a review of the Zippo® Outdoor 4-in-1 Woodsman™. A familiar name to many, Zippo is well known for their ingenuity and reliability. They have created a product ideal for the avid camper or outdoorsman that gives you 4 convenient tools in one handy axe.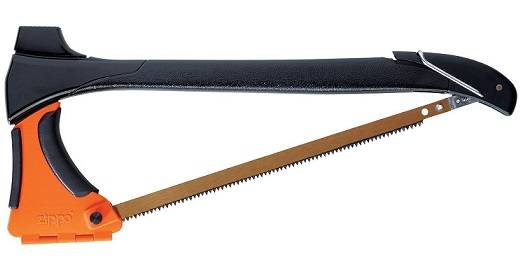 The Woodsman features a razor sharp blade, a sturdy handsaw, a mallet intended for driving tent stakes, and a nifty tool to easily remove those stakes. Now you won't need to carry multiple tools when heading out into the woods to tackle some firewood or when packing for a camping excursion with the family. You'll save space and money with this ingenious tool.

Key Specifications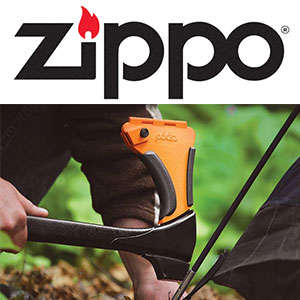 Brand: Zippo Outdoor
Model: 4-in-1 Woodsman
Model Number: 44032-Z
Axe Head: 5 in.
Saw Blade: 15 in.
Handle Length: 20 in.
Overall Length: 23 in.
Handle Material: Thermal Molded Rubber
Overall Weight: 3.0 lbs
Features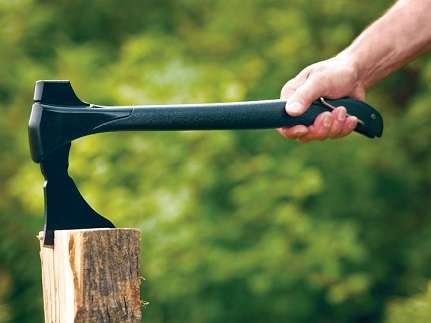 While Zippo is most known for their signature wind-proof lighter, they design useful survival tools for everyday folks. The 4-in-1 Woodsman™ is a creative tool that relies on the secure hard safety sheath to convert it into a bow saw, mallet, or a stake remover. When the safety sheath is removed, you have access to a 5″ axe head that comes with a finely honed edge straight from the factory.
The features include a full tang stainless steel blade affixed to a polymer handle that has a storage compartment for the two included saw blades. The saw blades attach through a hole on either side that is fitted into the sheath at the top and into a tension compensator at the bottom. The transformation process from the axe to the saw is admittedly tedious, but given that it saves you the trouble of carrying a saw, it is worth it.
Plus it boasts the ability to saw through wood 4 inches in diameter! As far as the mallet and stake remover, Zippo is clear that they should not be used on more than tent stakes, as I imagine the plastic handle is susceptible to breaking when under too much pressure. However, when used properly, it can make building and taking down your tent a breeze.
This tool is not particularly recommended for those hardcore campers who require multiple hardened tools to tackle difficult tasks. But for those family campers who enjoy sawing their own wood from the trees nearby and chopping them into firewood, this tool is for you. Be sure to read the included instructions before use. They will save you the time and energy of having to figure out how to use the additional features on your own.

Wrap-Up
Overall, this is a pretty great tool. It can break when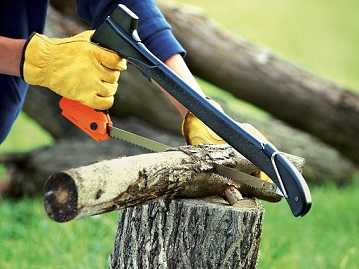 overexerted so be sure you only use it as directed. Despite that, it truly is an inventive and handy tool. If it was just an axe I would say it was a little large to be a tool included in your work pack, but given it also doubles as a mallet, a stake puller, and a saw, it is a perfect size. Remember, it is doing the job of 4 tools, so it needs to be able to accommodate that.
Now, if you think that the stake driver and puller are a bit silly and you don't see yourself using them, this tool may not be for you. For the price, you could find a tool that suits your exact needs. However, if you are a camper or an outdoor enthusiast that regularly finds themselves camping, hunting, chopping wood, sawing down trees or things of that nature, this tool will be perfect! It does require a bit of assembly to convert into a saw, but everything you need to do so is right there in the tool.
I recommend this to those who have jobs that require multiple tools, as it really saves space and energy when traveling to a job site.

Cons
Hammer head made of plastic