Before we jump into it, let's go over a few things that you should know before looking for the right steel for you. First of all, what is the primary purpose of this tool? Will you be using the axe for camping, hunting, or woodsplitting?
Is it going to be used for excavation, breaching, or other tactical purposes? How much wear and tear is it going to endure? Is this a going to be a display or collector's item? All of these factors are crucial in helping determine what type of steel is fitting for you.

Learning The Basics

What is Steel Comprised Of?
Generally speaking, steel is a metal that contains a mixture of iron and carbon. When no other elements are included, it is referred to as plain carbon steel. Steel that has other elements such as Sulfur, Manganese, Chromium, Nickel, or similar are referred to as alloy steels. Stainless steel is an alloy steel with at least 12% chromium.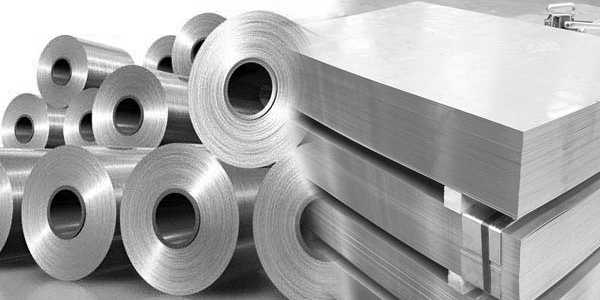 Common alloys and their properties include:
Carbon – Not an alloy, but as carbon is present in all steel, it is the most important ingredient in all steel manufacturing. It is essential for hardening, but in greater amounts it can reduce toughness.
Chromium – This element is excellent in resisting corrosion although in high amounts it can diminish toughness in the material. To achieve stainless steel, levels of chromium must be at least 12%.
Cobalt – Gives the blade refined strength.
Copper – Increases corrosion resistance.
Manganese – This element contributes to the hardness of the material. However, too much manganese can increase brittleness.
Molybdenum – Helps the steel maintains its strength when exposed to high temperatures.
Nickel – Supplements toughness, resists corrosion, and improves hardenability.
Nitrogen – This element is sometimes utilized as a substitute for carbon.
Phosphorus – This addition of this element helps increase the strength of the blade.
Silicon – Helps eliminates oxygen from the metal during the formation process. Adding it to steel can also increase its strength.
Sulfur – This element increases the steel's ability to be used by machines but also reduces toughness.
Tungsten – Help boost durability and protects against wear.
Vanadium – Hardens the blade and offers increased corrosion resistance.
Important Qualities of Steel
It is important to understand the properties and qualities of each kind of steel or alloy. This is necessary for helping understand how each is best used and what you can expect from an axe forged from a particular combination of steel. Here are some essential properties you should look for when shopping for axes and weaponry.
Hardness: The steel's capacity to stand up to warping and deformation after use. This is calculated on a Rockwell Scale (explained below).
Hardenability: The measure of the steel's capacity to be hardened when going through the heat-treating process.
Strength: How well the blade withstands exertion and force.
Ductility: The measure of the flexibility of the steel.
Toughness: The steel's capacity to absorb shock.
Initial Sharpness: How sharp a blade arrives directly from the factory.
Edge Retention: How well the blade maintains its edge without resharpening.
Drop Forged: The process of heat treating the metal and strategically hammering it into a particular cast die. This process is used to produce high-quality weaponry and products that need increased strength and durability.
Deterioration Resistance: The steel's ability to combat corrosion.
Wear Resistance: How well the axe stands up to basic wear and tear over time.
What is the Rockwell Hardness Scale?
This scale is used to measure the hardness level of steel and various other metals. The measurement is usually displayed as RCxx or xx HRC. For example, it may appear written as RC55 or HRC 55. The number scale measures how hard or soft a particular metal is. Higher numbers correlate with harder materials, whereas the lower a number is, the softer the steel is.
When a material is too hard or has a high level of Rockwell Hardness, it may be difficult to sharpen, or become fragile after prolonged use. Conversely, when steel is too soft, it may be susceptible to bending and deforming, and probably will not hold an edge well. It's ideal to find an axe that has a comfortable level of hardness in between the two.
We made a chart below that easily show you some of the most common tool and blade steels characteristics in terms of edge hardness, corrosion resistance and sharpenability.

Types of Steel
As you can imagine, there are many different types of steel available, and each can be used for a variety of purposes. When it comes to creating quality axes and tomahawks, there are a few popular choices that are utilized by plenty of well-known axe manufacturers on the market. This guide will help you understand the qualities, properties, and ideal uses of each kind of steel.
I'm going to explain the differences in various types of popular steel choices. Custom creations can use specialty steels if desired, but here we are only going to focus on the more widely used types.
Each steel type has its pros and cons, and the areas in which it performs best. It is important to remember that when utilized for its primary and intended reason, your axe should perform excellently. That being said, when a tool is abused or used improperly, it is unlikely you'll see positive results regardless of the quality of the steel. Be sure you know exactly what you intend to use your axe for.
Stainless steel is often better for outdoor use because it withstands wear and tear longer, but carbon might be better if you are planning to be doing heavy work. Also, steel does not work the same way with axes, hatchets, and larger tools as it does with knives. Certain desired properties in knives are considered undesirable or unnecessary in axes.
Carbon Steel (1050-1090, 5150, 5160)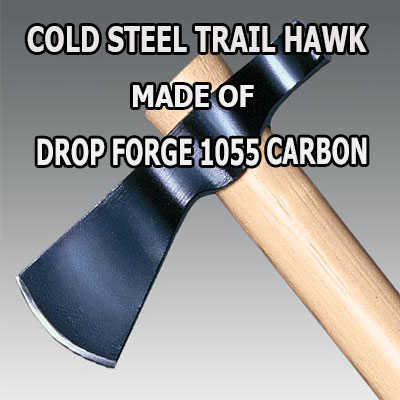 Plain carbon steel is one of the most popular materials used in axe forging. It is easy to sharpen and stands up to corrosion. It is harder than other steels, like stainless for example, so it will maintain its edge better when exposed to hardened materials. Of course, all steel has a bit of carbon in it.
However, plain carbon steels contain a mixture of primarily carbon and steel, while other types of steel contain compounds of various other alloys and compositions. Carbon is the most important hardening element in all steel types and can help extend the life of your blade, although too much can reduce the toughness in the material, making it more susceptible to shock and damage.
Carbon can be classified into three sub-categories: low, medium, and high-level carbon. Medium and high are what you will most commonly find in many axes. Medium-level carbon has between 0.4 – 0.6% Carbon while high-level carbon has about 0.7 or 0.8% and above. As per the naming system developed by the SAE (Society of Automotive Engineers), plain carbon steel is encompassed in the 10xx number series.
The last two numbers indicate the percentage of carbon included in the steel. Most axes use medium-carbon steel, most commonly around 1050 – 1060. This is because this steel is the best for honed edged weapons, and it is heat-tempered to diminish the risk of breakage and splintering.
Sometimes a high carbon 1070 or above is used. A high-quality steel that you can acquire is 1080 Carbon steel, or it's Japanese counterpart, SK5. The metals in these materials are high quality, hardened with an RC level of up to 65. Blades of this material are a suitable choice for rugged, rough tasks, though they do demand a bit more care, as the edge requires sharpening more often than other materials. However, because of their high-quality makeup, sharpening is easy and care is cheaper.
Another popular type of carbon steel is 5150 and 5160. The 50xx group of steel is classified as alloy steels in the SAE, and the last two digits determine the percentage of carbon, just like the above. At 0.5% and 0.6%, this is a medium-level carbon with enough chromium to significantly increase its overall performance, though not enough to consider it a stainless steel.
Due to its similarly low carbon content, this steel has increased toughness, hardenability, and shock resistance as compared to other materials. Easily one of the more durable and impact enduring of the steels, because of it's outstanding toughness and hardness it is best suited for larger blades and makes for an excellent blade on a throwing axe.
Stainless Steel (400 series, 2Cr13, 3Cr13)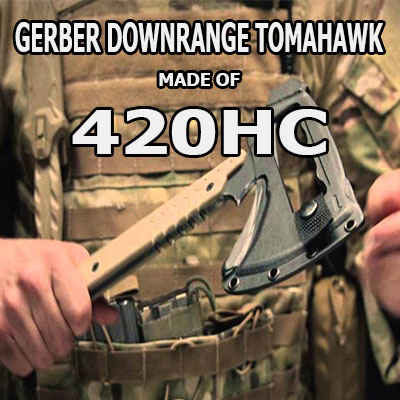 Stainless steel is another vastly popular and commonly used material as it is easy to maintain and withstands corrosion effectively. The major ingredient in this material is chromium and at least 12% of it must be present to be considered stainless steel. At this level, the chromium oxidizes, giving the steel its underlying properties, which include improved resistance to wear and tear.
Nevertheless, in order to be hardenable, as stainless steel is known to be a particularly soft metal, it can contain limited chromium, lowering its resistance to corrosion. Stainless steel is found in a vast array of products and tools available in various markets, such as cutlery, surgical tools, jewelry, and more. It is generally inexpensive, cheap steel, but it is regularly combined with quality materials like nickel to increase its effectiveness.
The most popular type of this steel found amongst axes and hatchets is 420 Stainless Steel. Harder than 410 but softer than 440 (as the number order would suggest), this material only has about 0.3% – 0.4% carbon, meaning that is a fairly soft steel, and has moderate edge retention.
Conversely, it is incredibly corrosion resistant, and stands up well to the elements, making it ideal for tools that are exposed to water or minor chemicals often. It has above average ductility when hardened, and can reach up to RC53. 2Cr13 and 3Cr13 stainless steel are the Chinese equivalent of 420 Stainless Steel.
They reach up to RC50 and RC52, respectively. This is a steel that is ideal for mildly to moderately sized workloads that require prolonged exposure to water, snow, chemicals, dirt, and the like. They are easy to polish and maintain and sharpening is a short, manageable task.
Another commonly used type of 400 series stainless steel that is used when forging axe heads is 420HC, which is High Carbon 420 Stainless Steel, and should not be confused with the aforementioned 420. Because of its higher level of carbon, it has increased hardness and edge retention, giving it a considerable boost in strength compared to its counterpart.
This version of the steel unites the edge holding, wear resistance of the high carbon steels with the corrosion battling properties of chromium alloys. It is considered quality steel, as it combines a complimenting combination of desirable characteristics, ideal for tools that you expect to be used often.
Stainless Steel (AUS 6, 8, 10)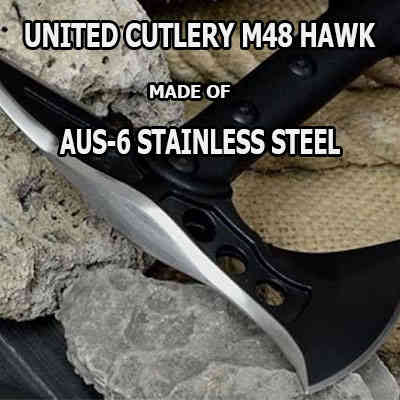 AUS-6, AUS-8, and AUS-10, also known as 6A, 8A, and 10A in that order, are stainless steels produced by Japanese steel maker Aichi Steel Corporation. Their carbon content can be compared to steels such as 440A, 440B, and 440C, respectively. 6A has an average of 0.65% carbon content, and usually competes against steels like 420 stainless steel when it comes to weapon making. 8A holds a carbon content of about 0.75% and is considered moderately tough middle-level steel. 10A has a carbon content of around 1.10%. It is often compared to 440C though their biggest difference is the slight decrease of chromium in 10A.
Blades forged with AUS steel are usually hardened to RC 55 – 58 on the Rockwell Scale. This stainless steel is designed and to have a sharp, biting edge. However, with its ability to hold a sharper, finer edge comes the need to sharpen more often, so it's a bit of a trade off. Sharpening will result in an easily and accurately achieved razor-sharp edge, but you will find yourself maintaining the blade frequently.
The biggest difference and a major benefit in the AUS series is the addition of vanadium. The addition of this alloy gives the already corrosion resistant stainless steel enhanced erosion protection and increased toughness. In addition, it makes maintaining the blade a breeze. Cleaning, sharpening, and polish are effortless thanks to the advanced characteristics of the metal. Overall, these blades tend to be great quality, rust-resistant, tough, and durable and are generally available inexpensively.